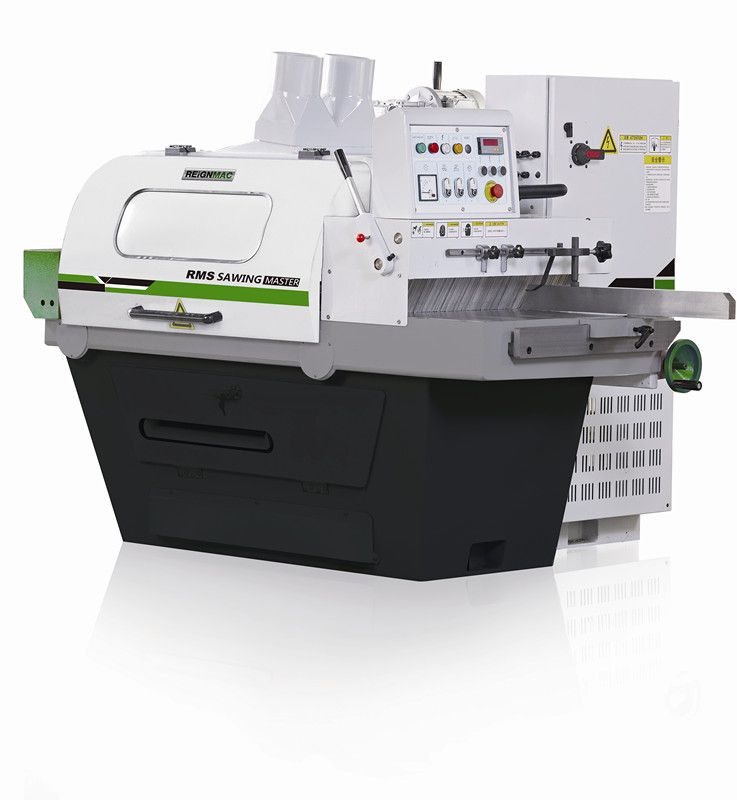 Multi Rip Saw Reignmac RMS300
Multi Rip Saw Reignmac RMS300
Multi-blade saws allow pieces of wood to be cut in more than one location at the same time. Width cutting, which is often referred to as ripping, is combined with longitudinal cutting to make the first stage of wood processing faster and more efficient. A multi-blade saw consists of two or more circular blades that are mounted on a saw shaft. The distance between the blades in a multi rip saw is set before the wood cutting begins with rings that are pushed against the shaft. This allows the same machine to cut wood of varying sizes quickly and accurately.
A multi-blade rip saw is capable of producing wooden work pieces of exact widths, lengths and depths using a selection of distance rings. This saves an operator from having to use two or more different machines, or from having to unload and reload the same piece of wood to achieve the desired dimensions.
Multi Rip Saw RMS300(CE norm)400V/50HZ/3PH
Min. length of work piece (install the short pressure board): 250mm
Min. length of work piece (install the long pressure board): 400mm
Max. cutting thickness(install the short press board): 85mm
Max. cutting thickness(install the long press board): 70mm
Max. cutting width: 300mm
Max. feeding width to fence 750mm
OD size of saw: 203 - 305mm
ID size of saw: 70mm
Spindle diameter: 50mm
Spindle Speed: 3800r/min
Spindle motor: 22kw(30hp)
Feed motor : 0.85kw/1.1HP, 1.5kw/2HP (double speed)
Beam lifting motor: 0.37kw/0.5HP
Total motor power: 38.22/38.87kw (51.6/52.5HP)
Feed speed: 7.5-30m/min (step-less variable speed)
Dust outlet diameter: 2×150mm
Air speed: 30-40 m/s
Air volume: 6000 m3/h
Overall size:(L×W×H):1898×1625×1458mm
Packing size: (L×W×H):2098×1825×1658mm
Net weight: 2000kg
Cross weight: 2250kg
Machine body and table are made of high quality castings
Conveyor belt and guide are fitted with wear-resistant materials.
Spindles with high quality alloy materials and precision bearings, dynamic balancing to ensure stable and reliable operation.
Automatic oil lubrication system, with a lack of oil, oil leakage shutdown protection, effectively protect the guide rail, chain plate and main sliding parts.
Dual top and bottom anti-rebound device and front safety door, effectively prevent the rebound in thin sections.
Pressing device with electric lifting equipment, convenient to adjust.
High torque gear box for feeding
The feeding device has multi-group of active pressure wheel. 250mm as min processing length while continue feeding.
Interlock safety shut off on cabinet devices
Electric components with international class, stable and reliable.
washer for shaft (B=50)-M623.3.1-1G2
washer for shaft(B=30)-M623.3.1-2G2
washer for shaft(B=20)-M623.3.1-3G2
washer for shaft(B=10)-M623.3.1-4G2
washer for shaft(B=5)-M623.3.1-5G2