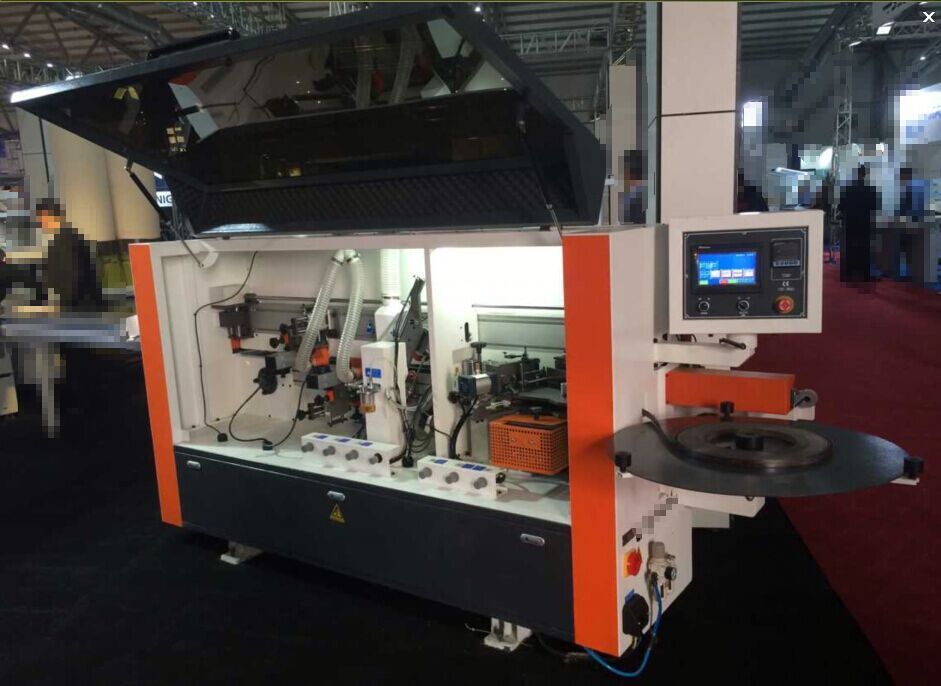 Interwood Edgebander F350 Capable of edging 0-3mm
Interwood Edgebander
Model F350 Coil edging from 0-3mm
Interwood Edgebander Technical Information
Panel Thickness 10-55mm
Panel Width Min 60mm
Panel Length Min 175mm (pvc)
Edge Width 8-50 mm
Edge Thickness 0.3 mm
Feed Speed 0 - 18 m/min
Frequency Converter 200Hz
Installed Power 7.25kw
Pneumatic Power 0.6MPa
Net weight 1000kg
Overall dimensions 2700mm L x 760mm W x 1400mm H
Machine Structure:
Machine base manufactured from heavy duty fabricated steel to guarantee stability and accuracy for operating units.
Body Frame is laser cut for strength and accuracy.
Panel Feeding System:
Main control touch screen HMI ( Human machine interface) user friendly
The guide ways for the track pads consist of one steel bar ground and hardened and one precision machined flat bar. This maintains accuracy of panel feeding.
Track Mechanism consists of a chain drive with sprockets at either end of the machine.
Main track is fitted with rubber track pads.
Top pressure consists of heavy-duty beam being raised and lowered by two steel columns. These are fitted with rubber wheels.
Top Beam fitted with manual rise and fall with digital read out
When the top pressure is adjusted it automatically raises the trimming stations.
Glue Pot, Edge Feeding and Pressure Zone
The glue pot consists of a quick melting system and a heated application roller.
Control via a digital thermostat.
Edge feeding for materials 0.4 to 3mm
Guillotine for edging up to 3mm.
Pressure roller system consisting of 3 rollers. First roller being driven, then rollers 2, 3, are free running with independent pressure adjustment.
Machine if fitted with an encoder
Snipping Unit
Two independent high frequency motors are fitted to trim the front and rear edges.
Trimmers are positioned using a precision linear slide way system enabling accurate trimming of panel.
Simple manual adjustment for accurate trimming.
Supplied complete with saw blade.
Motor4 power 2 x 0.37 KW
12000 RPM
Motor angle adjustable
Fine Trimming Unit
Two independent high frequency motors are fitted to trim top and bottom of panel.
Manual tilt movement between 0 and 10° for angled trimming of edging.
Independent tracing wheels for accurate machining of edging.
Fully adjustable tracing wheels for accurate machining of edging.
Automatic thickness adjustment via link to main beam.
Supplied complete with straight
Motor power 2 x 0.75KW
RPM 18000
Technical Specification:
Panel Thickness 10-55mm
Panel Width Min 60mm
Panel Length Min 175mm (pvc)
Edge Width 8-50 mm
Edge Thickness 0.3 mm
Feed Speed 0 - 18 m/min
Frequency Converter 200Hz
Installed Power 7.25kw
Pneumatic Power 0.6MPa
Net weight 1000kg
Overall dimensions 2700mm L x 760mm W x 1400mm H
Lease or Finance options are available on request.