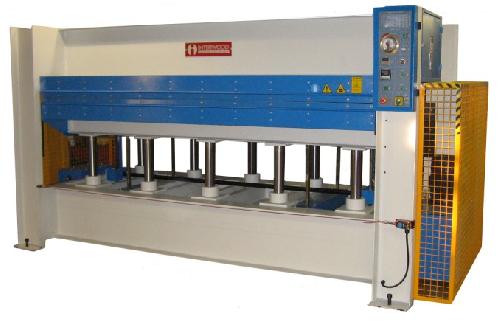 INTERWOOD HOP Veneer Presses
Interwood HOP Veneer press
The Interwood HOP Veneer Press is an upstroke machine pressing platen which operates from bottom to top.
It is used for veneering chip board and MDF panels, laminate panels, bath room panels, security doors, flush doors, composite light weight panels popular in the aircraft industry and caravan panels.
This HOP Veneer press uses heat to cure the adhesive.
All presses fitted with 40mm solid platens 3100 x 1550 and 2500 x 1300 in stock in the UK
Heated Hydraulic veneer press with 40mm solid steel platens
This machine has solid steel platens not fabricated like many other makes
10 x 5 (3100 x 1550mm) £26,995.00 + Vat
8 x 4 (2500 x 1300mm) £24,500.00 + Vat
If you have already had a quotation from one of our competitors please check it is the same specification as the Interwood press
Interwood HOP Veneer press technical details
Solid Steel Ground and Drilled Platens Thickness 40 m/m
Platen faces covered with detachable Mylar Film
Maximum Daylight (Single Daylight) 300 m/m
Maximum Daylight (Multi Daylight) 100 m/m
Diameter of rams 85 m/m
Maximum Pressure 120Tons
Hydraulic Power Pack 7.5 kw
Automatic Opening with timer 60 Min
Double switched Safety Trip Wire
Closing Speed per mm per Second 20
Heating Power: Oil heater and Circulation System Powers
Single Daylight 36kw
Please download our brochure

New Interwood HOP Hot Press

Solid Steel Ground and Drilled Platens Thickness 40 m/m
Platen faces covered with detachable Mylar Film
Maximum Daylight (Single Daylight) 300 m/m
Maximum Daylight (Multi Daylight) 100 m/m
Diameter of rams 85 m/m
Maximum Pressure 120Tons
Hydraulic Power Pack 7.5 kw
Automatic Opening with timer 60 Min
Double switched Safety Trip Wire
Closing Speed per mm per Second 20
Heating Power: Oil heater and Circulation System Powers
Single Daylight 36kw